Requests Hoster (mobile) - Menu Tab
---
Shout Out!
Overview
Allows you to send a crowd message out to everyone currently viewing your song book.
You can save messages to be reused at future gigs - no need to re-entering them.
Instructions
enter your message in the 'Current message:' box
if you've set up a phone number and website in your Admin account (in the SongbookDB Pal desktop app), you'll see checkbox options to include these at the bottom of your message.
click the 'SEND' button
to save your message for future use, click the 'Save to My Messages' button. Note - this overwrites the currently loaded saved message. To create a brand new message to save, click the 'New' button first.
to load a saved message, use the drop down menu labeled 'My Messages'
to delete a saved message, load the message to delete from 'My Messages', the click the 'Delete' button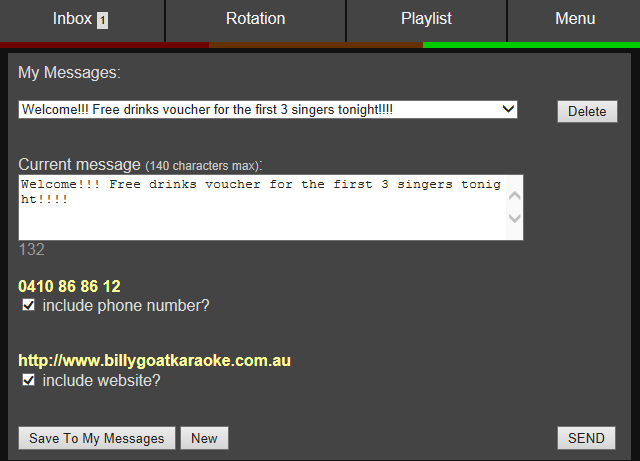 Venue/Show Type
Allows you to change the venue and/or show type part way through a show. Handy if you want to swap from, say, a karaoke show to a DJ one halfway through the night. Here's how to do it...
In SongbookDB Pal, set up two song list rigs one for the karaoke part of night (Rig1) and one for DJ only songs (Rig2). In your Gig Guide, allocate Rig 1 to 'Grand Hotel, London KARAOKE', and Rig 2 to 'Grand Hotel, London DJ SONGS'. At your gig, swap to 'Grand Hotel, London DJ SONGS' halfway through the night, and tell the crowd to choose that name from your song book's venue selector.
Banning Users
If someone becomes a nuisance by sending requests that they never show up for, or you suspect they're sending requests from somewhere other than the venue, ban them by clicking the 'BAN' button on one of their songs. This deletes ALL their request and singer folder data, and prevents them from making any more requests until you delete them from the Banned Users list (MENU tab).
Delete All Requests
Deletes all requests and singer folder data from the Inbox, Rotation, and Playlist - equivalent of starting a brand new show.
Singers See Rotation
When turned on, singers can see (in their Requests folder) the next three songs in the Rotation. This can be helpful as far as speeding up your show, as people are more likely to be near the stage when their song is next.
The current state of this switch is shown on the Account/Subscription page in yellow highleted text.
Account/Subscription
Shows the venue you are at, your show type, if singers can see the rotation, plus also displays info about your account status.
If you are on a free trial account, you will see a button that let's you click trhough to a subscription set up page, so you can begin a paid account and have access to the bonus features like BUZZ and SHOUT OUT!