SongbookDB Pal Overview
---
VERY IMPORTANT: if you've registered for either a PCDJ™ Karaoki or MTU Hoster® plugin account, you must watch one of the following two videos below (choose the one you registered for) AS WELL AS the Quick Start for DJs video listed after, as the song import methods for PCDJ and MTU SongbookDB accounts differ from the song import methods shown in the Quick Start fo DJs video.
PCDJ™ Karaoki plugin setup: https://youtu.be/6ZDf5WjbggM
MTU Hoster® plugin setup: https://youtu.be/xq_OvLGFUR8
Quick Start for DJs (how to use SongbookDB Pal - the desktop app for creating your song book):
00:00 - Intro
00:20 - SongbookDB - How It All Works in 2 Minutes
02:09 - DJ Account Registration
04:06 - SongbookDB Pal Installation
04:42 - Setting Up Your Gigs and Venues
05:42 - Rigs - What They Are & How They Work
06:50 - Create Your Song List (Song List Central)
08:05 - Import Method 1 - Importing Songs Off Your Hard Drive
09:50 - Editing Songs in the Song List Central Grid
11:11 - Tagging Songs
12:48 - Import Method 2 - Importing a .csv File
14:47 - Import Method 3 - Importing a PCDJ Karaoki .tsv File
15:30 - Set Up Your Business Details (Logo, Contact Details etc)
16:52 - Advertising Manager
17:31 - Receiving Requests (Optional Feature)
23:07 - Shout Out Crowd Messages
What SongbookDB Pal Does:
SongbookDB Pal is the desktop app you use to...
create and edit your song lists, and then upload them to SongbookDB.com
add venues and gigs to your account
receive live requests at gigs from people's mobile phones
One app - two logins? Admin and Requests:
Pal's Login screen is split into two sections, ADMIN and REQUESTS: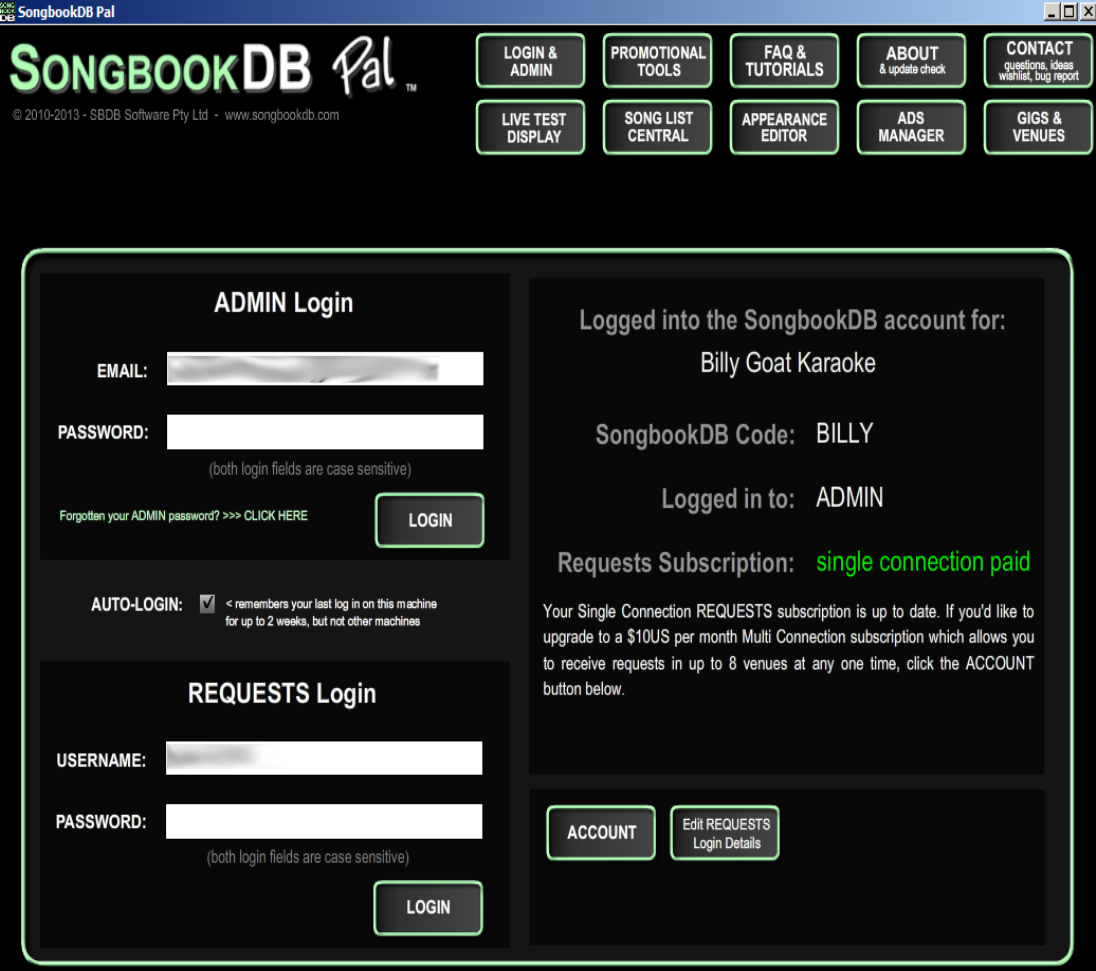 You log into Admin to create and edit your song lists, venues, and gigs, plus adjust your contact details and song book settings.
You log into Requests to receive requests (if you have a Requests subscription).
We have two separate logins because businesses that employ djs typically do not want their djs having access to Admin features, but do want them to have access to the Requests features.
Features Overview:
ADMIN features:
Song List Central: create, edit, tag and upload your song lists
Gigs & Venues: add venues and gigs to your account
Appearance Editor (will be renamed to 'Business Details'): turn features on/off on your song book
Ads Manager: upload an ad for your business that will appear in song searches
Live Test Display: view how your song book will look on a phone
each account comes with 8 rigs to save your song lists to, so you can have up to 8 different song lists if you want - perfect for businesses that have multiple rigs out each night that don't all have the same set of songs.
REQUESTS features:
BUZZ - alert the singer when their song is ready
SHOUT OUT - send a message out to everyone currently viewing your song book
turn Requests on or off
choose the venue you want to receive requests at
task bar icon flashes when requests arrive
one click to copy song details to clipboard
ban nuisance users
choose show mode (DJ, Karaoke, or Band - changes requests options on people's phones).
Free 30 Day Trial:
Every account gets a free 30 day trial. You then have the option of investing in a subscription starting from $4.99US per month.
*Prices current at September 2014. Some customers may be charged sales tax depending on their location.