Creating Song Lists
---
Song List Central
| | |
| --- | --- |
| Part 1 (6 mins): | Part 2 (5 mins): |
| | |
This is where you import new songs (using any one of three import methods), edit songs, tag songs, and then upload your list to SongbookDB:
Click the Song List Central button in the top menu, and a screen will open prompting you to open or create a new song list. Once you are done, you will see a screen similar to the one below, only you won't have any songs in your song list.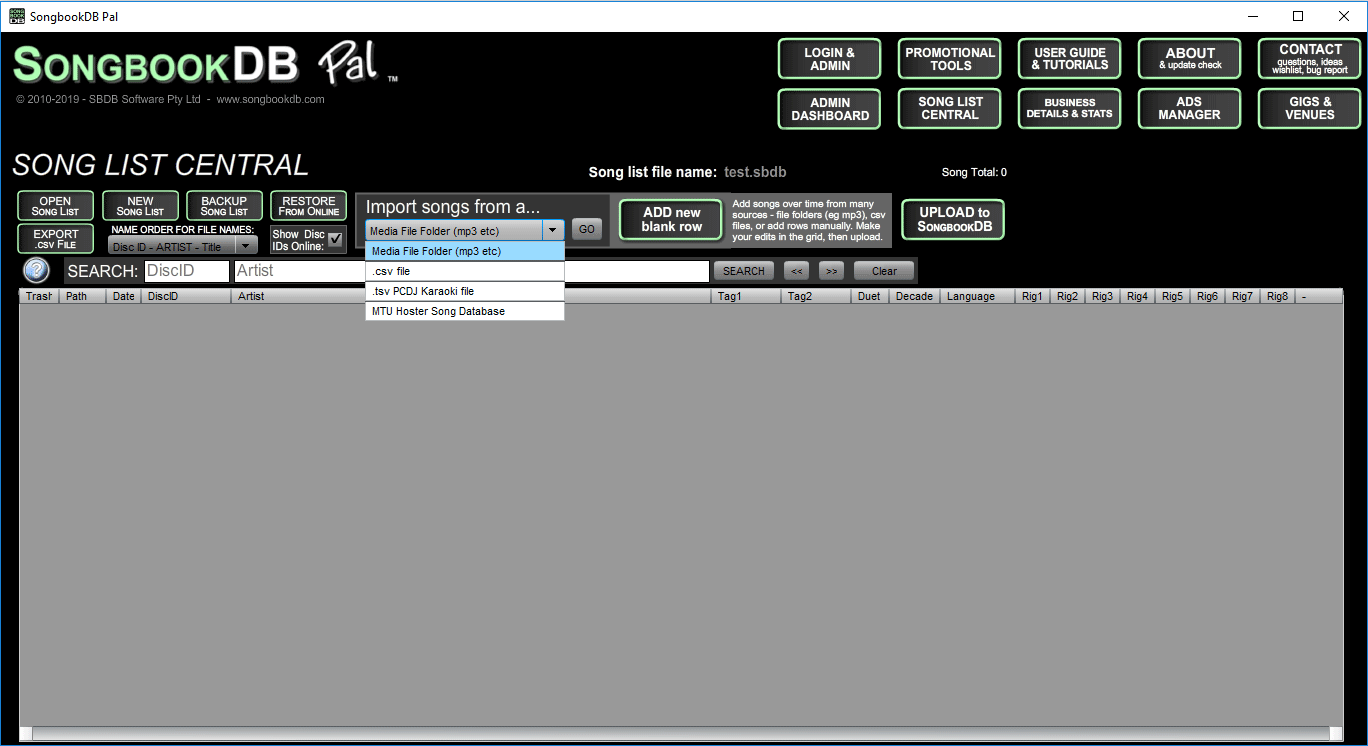 The idea is to keep adding to your list each time you buy new songs, ie you don't start a new list each time you need to do an update. Duplicates (same artist, tile and disc id) are ignored when importing.
You can...
create a new song list
open an existing song list
import songs (either off your hard drive, or by importing a .csv file)
add blank rows and enter songs manually
edit your song list (you can edit song names, artists, and disc IDs directly in the editor
tag your songs (Genre, Decade, Language, Duet)
allocate songs to any of your 8 rigs
upload your song list to SongbookDB.com after you are done with your edits
restore/recreate a local copy of your song list from the online version, if your laptop ever dies/is stolen etc
export a .csv version of your list, if you prefer to edit in an editor other than Song List Central in SongbookDB Pal
Song List Central supports importing ID3 tag data.
Every DJ has their own way of creating their lists. Some create a .csv file in an external program and import it. Some load songs off their hard drive directly into Pal. Some edit their songs outside of Pal, others within Pal's Song List Central grid. There's no right or wrong way - right is whatever fits in with your current way of creating your song lists.
Rigs (just quickly)
You'll notice on the right side of the grid, there are 8 columns named Rig1, Rig2 etc... I go over this in more detail in the Rigs section, but for now, understand that each Rig column relates to your physical karaoke or DJ rigs in the real world.
When you import songs (or after importing), you tell Pal which Rigs these songs belong to (dots appear in the columns). When setting up your gigs, you'll tell the Gig Guide which rig belongs to which gig. This is powerful because a) it allows you to have different song lists for your real world rigs, and b) if you have multiple DJs out working with different rigs on the same night, the system can differentiate between these rigs. This is especially important when receiving requests, as it ensures that the right DJ receives the right song requests.
If you're a solo DJ or KJ, you'll probably only have one rig, so don't need to worry too much about it, unless you want to set up different song lists that you can switch between during the night eg switch from a karaoke to a dj song list half way through the night.
How to Import Songs
If you haven't created a song list yet, click the New Song List button, and choose a name and location for your list. Otherwise, just click Open Song List and open your list.
Next, choose one of three ways to import songs into Pal (you can change your method later), by clicking one of the three buttons in the top middle of Song List Central. I'll briefly outline each one, and then explain them in depth:
IMPORT file folder - for importing song details directly from media files on your hard drive eg mp3s
IMPORT .csv file - import a .csv file you've exported from another program
ADD new blank row - add a blank row, and directly enter the text for the artist, title, and if required, disc id, into the grid
Here's how to use each one...
IMPORT file folder: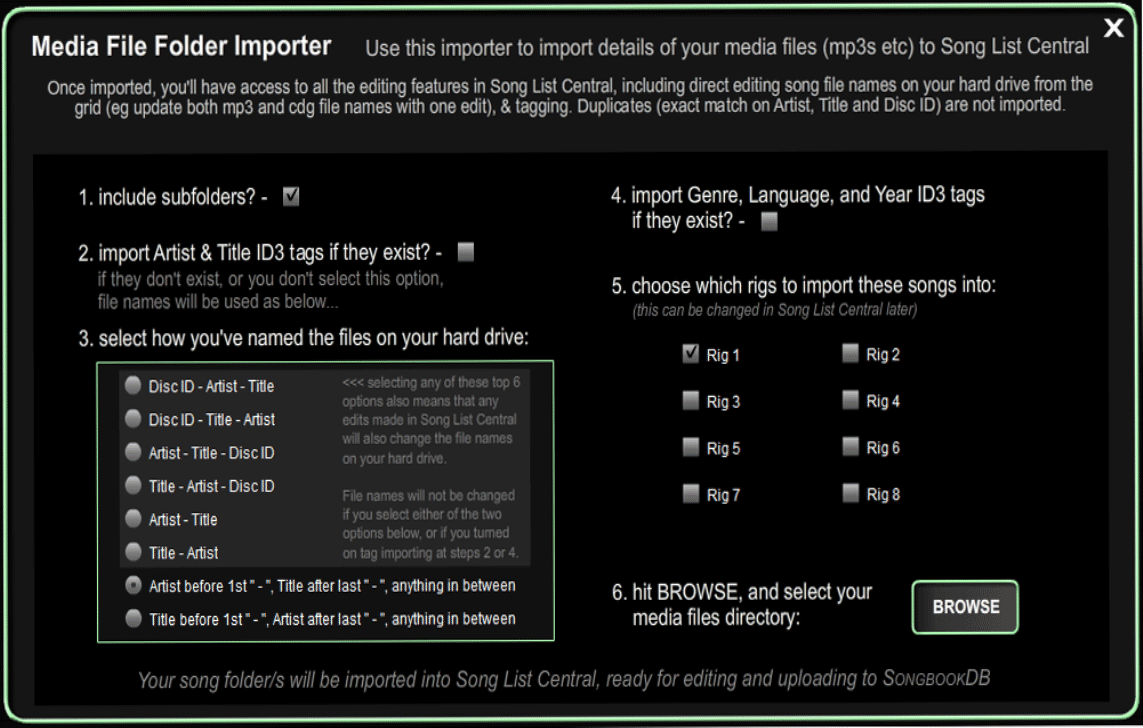 Use the Media File Folder Importer to import song information from the following file types:
mp3, zip, mdb, wav, wmv, wma, avi, m4v, acc, mid, mpeg, mp4, mpg, m4a, flv, m1v, m2v, mov, mp2.
The importer supports importing ID3 tag data.
How to import:
Choose whether to include songs in subfolders
Choose whether to import ID3 Artist and Title data. If any files don't have ID3 data, or you choose not to select this option, the Artist and Title dtata is extracted from the file name as below in 3...
Tell the app how you've named your song files (DiscID - Artist - Title is the default standard way for karaoke)
Select if you want to import any available Genre, Language, and Year ID3 data.
Tick which of your 8 rigs you want these songs to belong to (see the Rigs section for more info). You can change the rig settings for each song manually once they are imported, but it's easier to set these now.
Browse to and select the folder where your songs live.
The importer will process the songs, and import them into the Song List Central grid.
NOTE: New or editing song rows have a yellow background, indicating that they have not yet been uploaded to SongbookDB. This is regardless of the import or editing method.
IMPORT .csv file: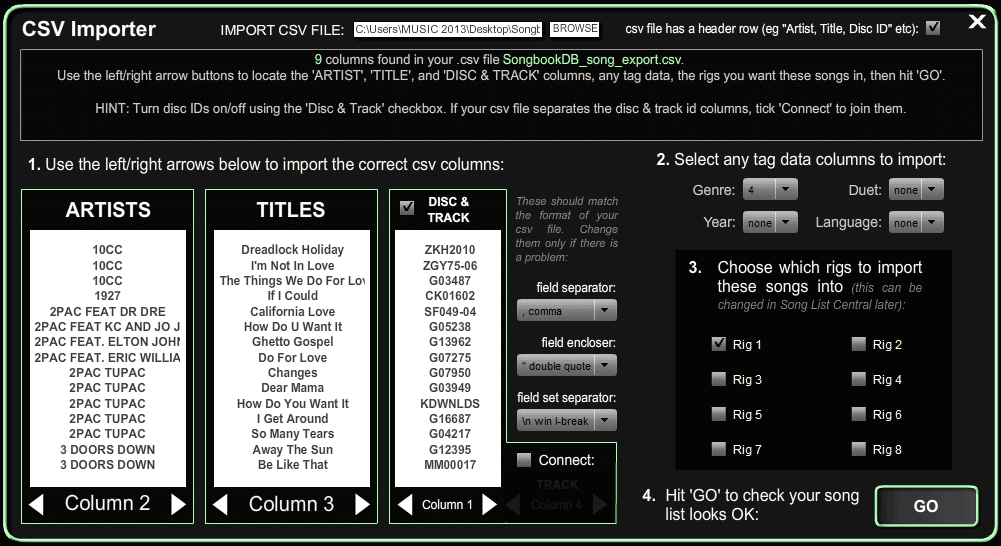 Use the CSV Importer to import song information from a .csv you have created in another program eg LibreOffice, Excel etc
.csv requirements:
Your .csv file should be utf-8 compatible, have it's fields enclose with double-quotes - ", separated by commas, and terminated by line breaks.
What data you can import:
Artists, titles, disc ids, genres, decade/year, language, and whether it's a duet (see List of Tags SongbookDB Recognises for what tag data is accepted).
.csv import process:
if your .csv file has a header row that names what each column is eg "Artist, Title, Disc ID..." etc, tick the "csv file has a header row (eg "Artist, Title, Disc ID" etc):" check box (top right), otherwise leave it unchecked, or the importer will miss the first song.

Then, click the BROWSE button to find and select your .csv file. Your file will import to the three columns in the importer. Note: it doesn't matter how many columns your actual .csv file has – you can tell Pal which ones are the artist, title, and disc id columns – here's how...

Use the left/right white arrows at the bottom of each column to tell the importer which column in your c.sv file is the Artist, which is the Title, and which, if any, is the Disc ID. Use the checkbox at the top of the DISC & TRACK column to turn Disc IDs on or off for this import. Use the Connect checkbox at the bottom to join two .csv columns together if you have your disc and track ids stored in separate columns.

The three drop down menus allow you to change what the importer uses for the field separators mentioned earlier under .csv requirements. You shouldn't need to use these if you stick to the guidlines in that section.

Tick which of your 8 rigs you want these songs to belong to (see the chapter Rigs for more info). You can change the rig settings for each song manually once they are imported, but it's easier to set these now.
Hit GO.

The importer will process the songs and display a test screen. Check the songs look ok, then hit the IMPORT button. Your songs will be imported into Song List Central.
NOTE: If you need to edit the new songs you've JUST imported (using any import method), click the column header 'DateFirstAdded'. It will sort the songs you've just added (yellow rows) to the top, so it's easy to select them for your edit.
ADD new blank row button:
You can create a new blank song row ready for manual song entry by clicking this button. See below for details on adding text to the row.
Editing in the Song List Central grid:
Now that you've imported or created your songs, you can choose to edit them.
To edit a song, left click to select it, then perform your edit.
You can edit (or add) text directly into the DiscID, Artist and Title coulmns.
Standard multi-selection rules apply - Shift-left click to select multiple consecutive rows, Ctrl-left click to select multiple non-consecutive rows.
If the 'Hold Selection' check box appears, tick it to keep your multi row selections live, so you can make multiple edits without having to reselect them.
Right-click menu:
Right-clicking on DiscIDs, Artists, or Titles will display the right-click menu, which displays options to swap fields (if the DiscID, Artist, or Title is in the wrong place), capitalize ALL the letters in the field, and capitalize just the FIRST letters of the words.
Tagging Songs:
Double clicking in columns from 'Tag1' onwards opens the Tag Editor - more on that in the Tagging Songs section.
Uploading Songs:
When you are happy with your importing and edits, click the Upload to SongbookDB button (far right at the top of Song List Central), and follow the instructions.
The next time you upload, you will be given the choice of either a Whole List or Incremental update. We recommend using Incremental, as it only uploads any new or edited songs (fast). Only choose Whole List if something has gone wrong, and you want to delete and overwrite the entire song list that is currently online.
The public will be able to instantly check out the latest songs you have added by clicking the 'Just Added' button on the SongbookDB app - it will display songs you've added in the last 30 days.
Top Right Buttons:
Open Song List:
Browse to and open your .sbdb file, which loads into Song List Central ready for editing.
New Song List:
Creates a new .sbdb file, which loads into Song List Central ready for importing/editing.
Backup Song List:
Saves an exact copy of your .sbdb song list file on your machine
Restore From Online:
For recreating your .sbdb file from the online version if your laptop ever dies/is stolen etc. The restore includes all data:
DiscID, Artist, Title, DateFirstAdded, Genre1, Genre2, Duet, Decade, Language, +rig data
Here's how it works:
your laptop dies - you feel rage
your hot girlfriend buys you a new laptop - you no longer feel rage
reinstall Pal on your new laptop
hit "New Song List" in Song List Central to begin a new list
hit "Restore From Online" - Pal will download your list, and save it on your desktop as a .csv file named SongbookDB_songlist_restore.csv
click the "IMPORT .csv file" button
tick the "this is a restore or backup file:" check box next to the file browser - this presets the .csv import window to the format required for loading in SongbookDB_songlist_restore.csv files (or SongbookDB_song_export.csv files if you ever export a copy of your list using the "Export .csv file" button)
browse to and select SongbookDB_songlist_restore.csv
after Pal reads it, hit GO
if the list looks good, hit IMPORT - your list loads into Song List Central, and should be an exact copy of what it was before your laptop disaster
final step - hit "UPLOAD to SongbookDB". We do this because the newly created local database currently has different row ids to the online one, so we need to overwrite the online database to keep both in sync.
Export .csv File:
Exports a .csv file of your song list if you prefer editing in an editor other than Song List Central eg Excel. All data is copied over, including tag, rig, and date first added info.