Gigs and Venues
---
Click the Gigs & Venues button in Pal's top menu to open the Gig Guide and Venue Editor...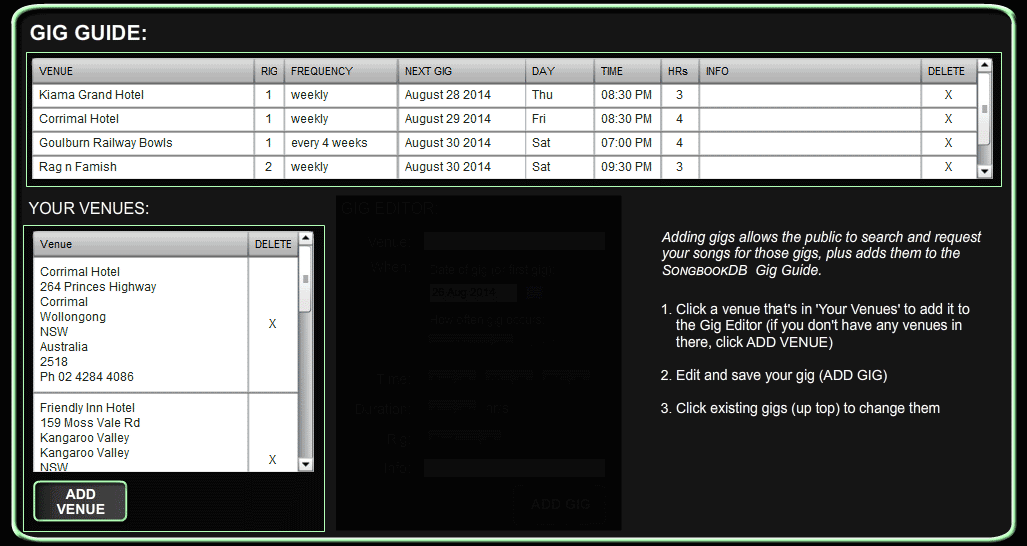 In order for the public to view your songs, or send you song requests, you must have gigs entered in your Gig Guide.
If you don't have any gigs, but want people to be able to view your songs anyway, simply set up a fake gig. Since you'll only have one gig in your gig guide, they'll be shown the songs for that gig by default - they won't be presented with a drop down menu to choose from.
Step 1 - Set Up Your Venues:
1. Click the ADD VENUE button...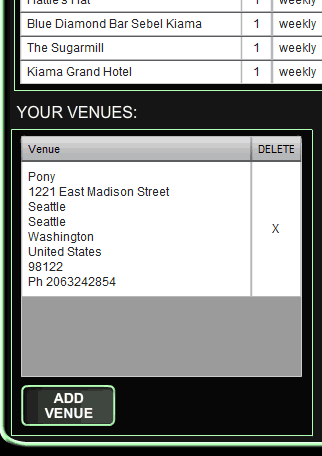 2. Enter your venue name and location, and hit SEARCH - Pal will search the system to see if someone has already entered the full details for that venue...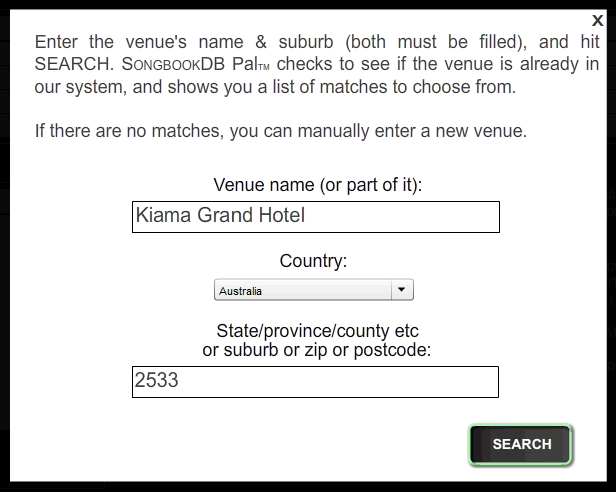 3. If the venue is found, simply click it in the left hand list to add it to Your Venues. If not, add your venue's details on the right hand side, and click SAVE...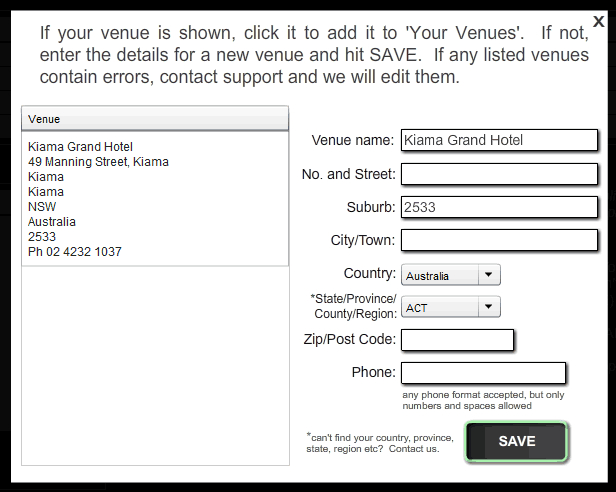 4. The venue now appears in the YOUR VENUES box...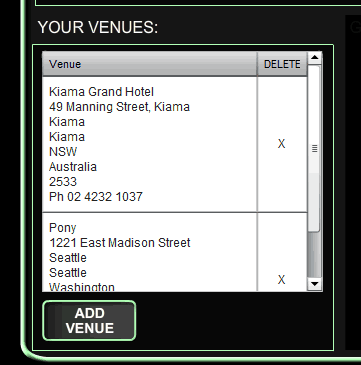 Step 2 - Set Up Your Gigs:
1. In YOUR VENUES, click the venue you want to add a gig to. The GIG EDITOR will appear...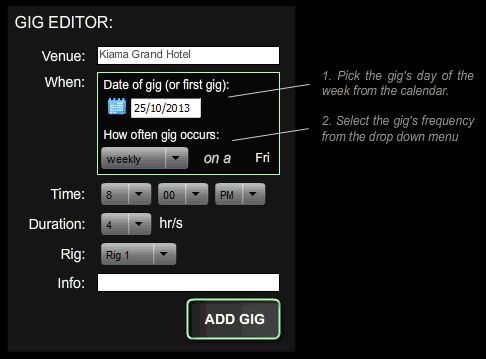 Click the blue calendar to choose the date for your gig. If this is a recurring gig, this date will represent the first gig.
Choose how often the gig occurs. Your choices are WEEKLY, EVERY 2 WEEKS, EVERY 3 WEEKS, EVERY 4 WEEKS, MONTHLY, or ONE OFF GIG.
Select the start time, and duration.
Select which Rig this gig will relate to (see the Rigs section in this manual)
Add any extra info eg "$10 Steak night - yeah baby!!!!"
Click ADD GIG. Your gig will appear in the gig guide list at the top of the window. All this info will also appear in the SongbookDB Gig Guide for the public to view on their phones.
Editing or Deleting Gigs:
To delete a gig, simply click the X symbol under the delete column for that gig.
To edit a gig, click it in the top gig list - it will appear underneath in the GIG EDITOR for your to edit. Click the Update Gig button once you are done.