Requests Hoster (desktop)
---
There are four ways to receive requests on the SongbookDB network
in the Requests Hoster screen of the desktop app, SongbookDB Pal
on our mobile app - SongbookDB Karaoke Requests Hoster
in our PCDJ Karaoki plugin
in our MTU Hoster plugin
They both have almost the same features. There are two main differences:
the mobile app has a built in rotation system (Pal's Requests Hoster does not)
Pal's Request Hoster lets you copy and paste song request data from Pal to your karaoke hosting program (impossible to do on the standalone mobile app)
This sections deals with Requests in SongbookDB Pal only. For info on our Karaoke Requests Hoster mobile app, see the left hand side menu.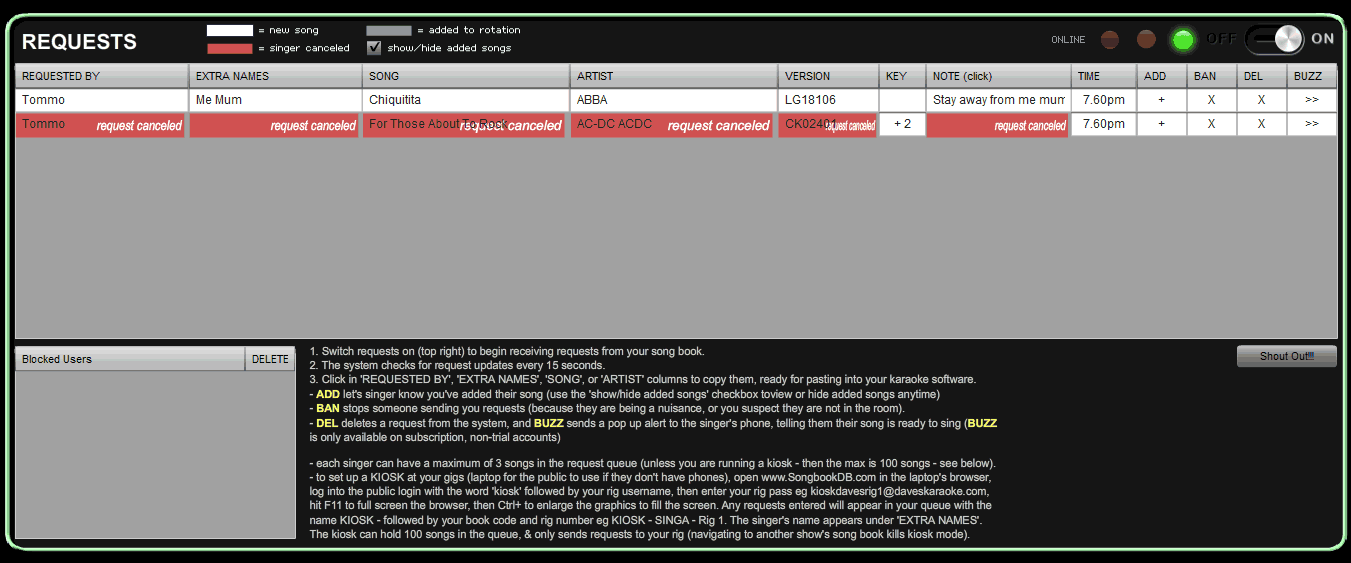 Overview:
If you choose, you can switch Requests on in the Requests screen, and the public can send you song requests from their phones.
Singers can have a maximum of three songs in the queue at any one time, and you have to ability to block individual users if they make nuisance requests.
Public users must be logged into their SongbookDB account in order to send you a request.
You can also set up a kiosk laptop for users who don't have phones, so they too can send you requests (see Kiosk in the left hand side menu).
You get to try Requests out free for 30 days when you register your song book account. After that, you will need to invest in a paid account to continue to receive Requests (see Pricing in the left hand menu)
Logging Into Requests:
First, instead of logging into the Admin section on the Login screen, log into Requests using the username and password you set up when you registered. If you forget your Requests login details, or want to change them, first log into Admin, and then click the 'Edit REQUESTS login Details' button (bottom right of LOGIN screen).
NOTE: All your DJs logging into Requests use the same user name and password. When they connect, they will be presented with a venue selector which logs them into the Rig you set up for that gig (see the Gigs & Venues section for details on how to set up your gigs, venues, and the Rigs section for rigs).
Venue Selector:
Once logged in, you will be shown the Venue Selector, so you can choose which venue you want to receive Requests at. If you can't see any venues, it means you haven't set up any gigs in your Gig Guide (see the Gigs & Venues section)...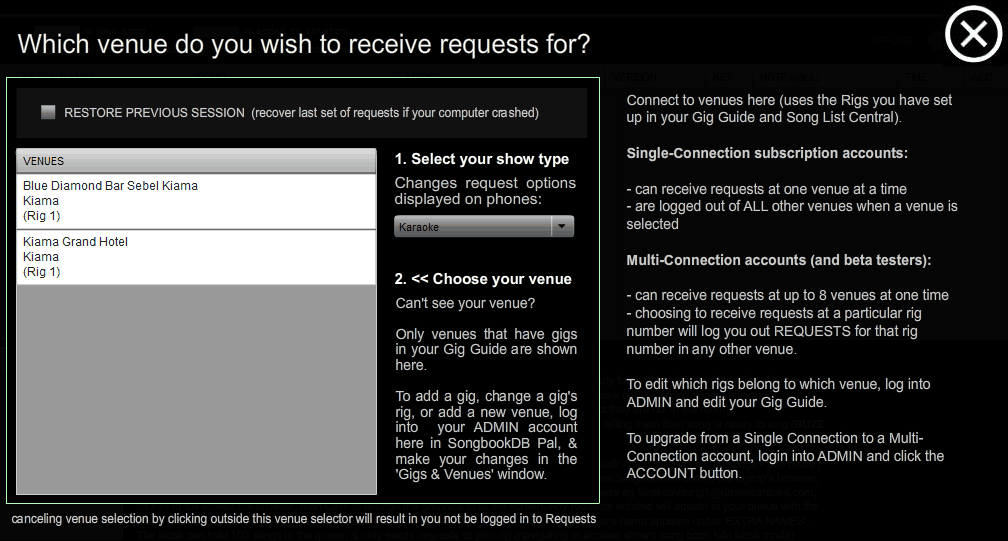 The Venue Selector also allows gives you the opportunity to a) 'RESTORE PREVIOUS SESSION' - which allows you to load in all the requests from the last session if you had to restart your computer due to a crash (it also loads any requests received while your computer is restarting); and b) switch your show type between KARAOKE, DJ or BAND - each one displays different request buttons and options on peoples' phones eg KARAOKE displays pitch/key & extra singers options, whereas DJ does not.
TIP:
Want KARAOKE for the first part of the night, then DJ only songs? Here's how to set it up, and then quickly switch over during the night:
Import your DJ songs to a different rig eg rig 4
Create a separate gig for the DJ songs. I usually create new venues for karaoke and dj sections too eg The Grand Hotel Kiama - KARAOKE, and The Grand Hotel Kiama - DJ SONGS (you'll only need to create the venues once – then they're there for good).
Tell your patrons to select The Grand Hotel Kiama - KARAOKE from their venue selector
Do your karaoke thang
When you're ready to switch over half way through the night, switch requests off, then on again. You will be re-presented with the venue selector. Select "DJ" from the show type drop down on the right (this changes the "Sing" requests buttons on people's phones to "DJ Request", and also presents them with a different form to send you than the karaoke one), then select The Grand Hotel Kiama - DJ SONGS from your venue selector.
Tell your patrons to select The Grand Hotel Kiama - DJ SONGS from their venue selector
Do your DJ thang
What Singers See:
Once you've selected the venue you want to receive requests at, the on/off switch (top right Requests screen) will turn on, and the connection light turn green. People will now see sing buttons next to each song on their phones (they may need to refresh their screen), which they can click, and be presented with options dependent on your show type (KARAOKE, DJ or BAND) as below, which shows what they see if your show is set to the type KARAOKE...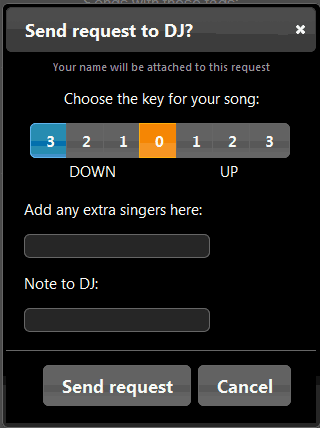 What You See:
The Requests server is checked every 15 seconds. If a new request comes in, or one is canceled, the SongbookDB Pal icon will flash in your taskbar to alert you. Once you click into Pal, you will see the new request (or canceled one) appear. The following image shows a new request at the top, and one that the singer has canceled (zoom in on your browser for a clearer view)...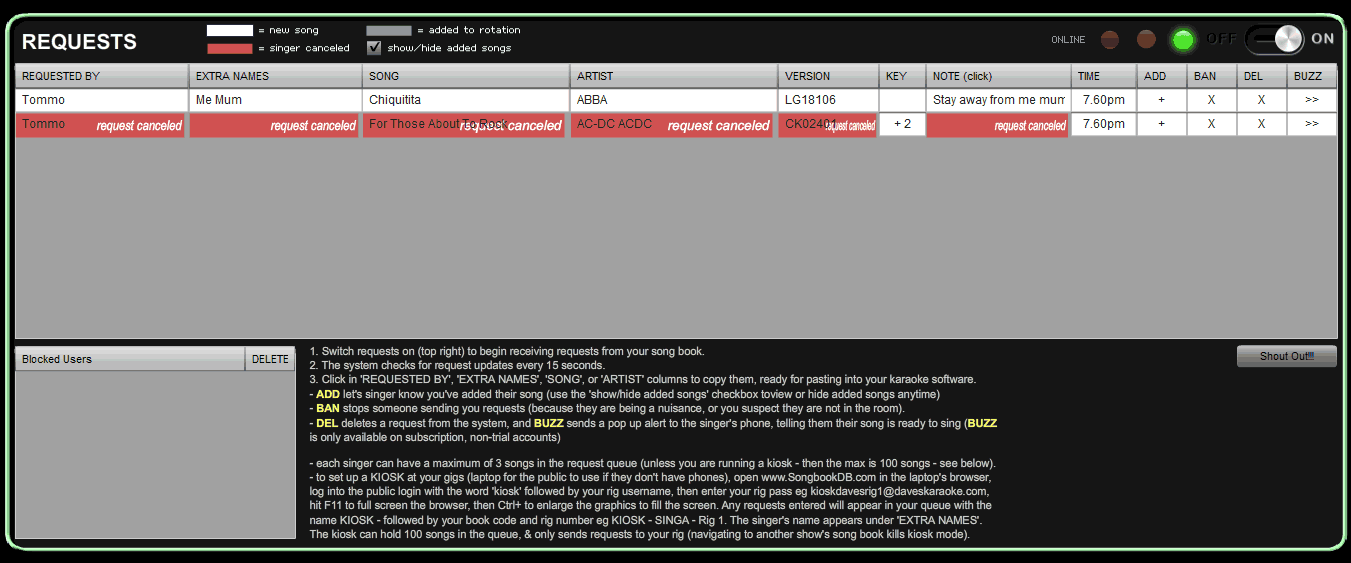 Interacting with the Requests Interface:
left-clicking once on the REQUESTED BY, EXTRA NAMES, SONG, ARTIST, or VERSION columns will copy that data from that row to your clipboard, ready for easy pasting into your karaoke player.
left clicking in the NOTE TO DJ will show the full message
ADD tells the system you've added the Request, changes the row color, and the singer will see a different status if they view their Requests folder. Also, if you have the 'show/hide added songs' check box unchecked (top mid-left), the added row will hide, to avoid clutter (you can see all added rows at any time by checking the checking box)
BAN bans that user to the 'Blocked Users' grid (bottom left). The next time they try to send a request, they will see a message telling them they are banned, and to come see you. You can reinstate their Request priveledges by deleting them from the 'Blocked Users' grid.
DEL deletes the request from the system (and the singer's Request Folder) on their phone. You should only use this if you are certain the singer is no longer wanting that request, or the song is inappropriate for the crowd.
BUZZ (only paying subscribers and trial users on week 4 or their trial will see this option) sends a message to the singer's phone letting them know their song is ready.
"Shout Out" (only paying subscribers and trial users on week 4 of their trial will have access to this feature):
(2:50 mins):
Click this button to display a message center where you can send a crowd message out to anyone currently viewing your song book at that venue (they don't have to be logged in).
You message can include your website and phone number (set up in the Appearance Editor screen), and you can save messages that you intend to use at future gigs.
"Buzz" (only paying subscribers and trial users on week 4 of their trial will have access to this feature):
Lets you alert the singer's phone when their song is coming up.
MTU Hoster plugin users: you can turn auto-buzz on or off like so - go to "Tools > Settings..." and click on the seventh tab ("SongbookDB"). There you will see a checkbox labeled: 'Automatically send a "Buzz" message to your Singers when they are next to sing.' With this box ticked, Hoster will send a Buzz message to the Next Singer just before the current Singer begins his/her song. Untick to turn it off.
Status Lights (red, orange, green):
These show your current Request server connection status. Green is good!!! If you experience an internet drop out due to poor internet reception, Pal will continually attempt to reconnect (flashing orange light) until a connection is hopefully re-established. The light will turn red when you switch Requests off.
Kiosk:
If you have a spare laptop that connects to the internet, you can set it up as a kiosk at gigs for singers that don't have phones.
(2:50 mins):
Here's how...
open https://www.songbookdb.com in your browser on your spare laptop (don't use Chrome - it sometimes has an issue where the kiosk resets itself regardless of user activity)
log into the public login that singers normally use, using your Requests username preceded by the word "kiosk". So if your requests username is usually johnskaraoke, log in with kioskjohnskaraoke, and the your normal requests password underneath.
A venue selector will display, showing venues you have gigs set up for (in your Gig Guide). Select your current venue, and click the LOGIN button.
Your browser will now show the kiosk version of what singers would normally see (reduced functionality). When they send a Request, the normal 'Extra Names' field turns into a 'Your name' field, so they can identify themselves to you.
When requests are sent, the word 'kiosk' will appear in the first column in your Requests grid, and the singer's name will appear in the 'Extra Names' column.
Your kiosk can have up to 100 songs in the queue.
Dummy Singer account for when demo-ing SongbookDB to venue managers:
Normally, in order for a singer to see 'Sing' buttons next to songs and send you requests, you would need to be logged into your Requests account in SongbookDB Pal, and have Requests turned on.
This is fine when you're gigging, but not ideal if you just want to show a venue manager how people can send requests.
To get around this, set up a singer account (like any singer would) via SongbookDB. When you log into it, prepend "testuser" to your email username when logging in eg if your public account username if fred@hotmail.com, log in as testuserfred@hotmail.com - you will then see SING buttons next to songs regardless if you have requests turned on in Pal, and be able to demonstrate the full request experience to the venue manager, including sending a request, and viewing sent requests in the singer's Request folder.