Rigs - what are they?
---
What is a Rig?:
Each rig in Song List Central relates to one of your physical karaoke or DJ rigs in the real world. If you're a solo DJ or KJ, chances are you'll only ever need one rig.
Separating rigs out like this in Song List Central allows you to do two things:
Maintain different song lists for each rig, as DJs/KJs don't always have the same songs in each of their physical rigs.
If you have multiple physical rigs out on any one night, each venue's requests are kept separate from each other, even though all your rigs are still under the one account.
We do this by you allocating each rig to a specific gig/venue in your Gig Guide (see the Gigs & Venues section). You then choose that venue when turning on requests at your gig. The public, when searching your songs, get to select which venue to view songs for and send requests to.
Allocating Songs to Rigs:
When you import songs into Song List Central, you stipulate which rig to import them into. If you want to change which songs are in which rig, you can do so by marking them under the Rig column you want to change...

In the above example, Dreadlock Holiday is available in three rigs, whereas the latter two 10CC songs are only available in Rigs 1 & 2.
When setting up a gig in the Admin Dashboard, you choose which rig belongs to it...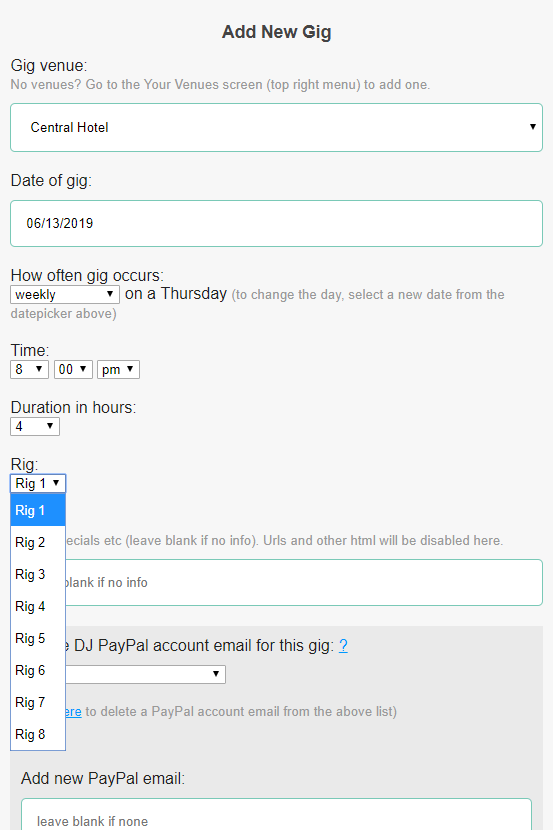 The public see a drop down menu for all the venues you've set gigs up for. They can choose which venue to view songs for and send requests to...