Tagging Songs
---
Overview
You can add tags automatically from ID3 data when importing songs from a Media File Folder or .csv file importer, or manually to existing songs in Song List Central by double clicking a song under the Tag1 (Genre), Tag2 (Genre), Duet, Decade or Language columns.
Importing ID3 tags:
Please follow the instructions in Creating Song Lists
Manual Tagging:
Double click the song you want to tag under the Tag1, Tag2, Duet, Decade or Language columns to open the TAG PANEL: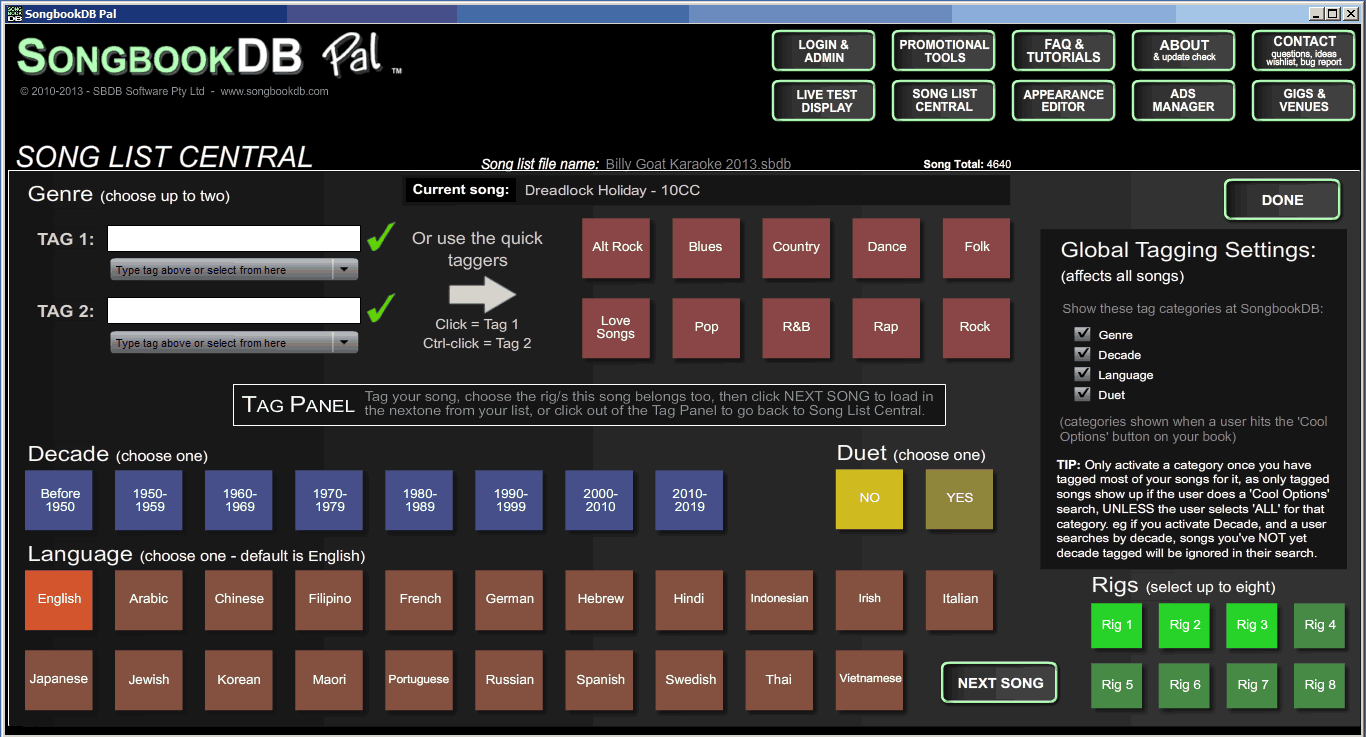 In order for the public to see tagging options when they search (they find these by clicking the COOL EXTRAS button on your song book) you will need to activate (tick) each of the Tag categories (Genre, Duet, Dace, Language) in the Tag Panel's "Global Tagging Settings" box, but only once you have tagged most them in your song list. Reason being, as an example, if you've only tagged 10% of your songs with Genres, only 10% of your songs will be included in Genre searches made by the public. So only activate each category once you have tagged most of your songs for that category.
Once DUETS is activated, singers will see a DUETS button on your song book. Once either Genre, Decade, or Language is activated, singers will see a COOL EXTRAS button that will allow them to filter searches with those tags you have activated.
The right hand Global Tagging Settings box was explained above under 'Tagging Songs'. Further, you don't need to change it for each song - it's settings apply to all songs.
Tags Available:
Genre: you can have up to two genres per song. Type you choice in the auto-complete text fields, or select the genre from the drop down menus. We have set up ten of the most popular genres as 'quick tag' buttons to speed things up.
Decade, Duet, Language: click these buttons to set them. If there was already a tag set for this song prior to you opening the Tag Panel, the applicable button will be lit. The Decade tags accept Year data from ID3 tag imports. The Language tag accepts the full name or 3 letter language code from ID3 imports.
Rigs: can can also choose which rig/s this song should belong to here (can also be done back in the Song List Central grid by selecting the song, then clicking it's rig column to turn it on or off for that rig).
Saving your Tag edits:
Once you are done editing, you can either click the DONE button to return to Song List Central, or the NEXT SONG button to save your current song, and load the next one in. Once you get good, you should be able to tag an average of one song every five seconds.
Tags SongbookDB Recognises:
GENRE (case insensitive):
Blues, Classic Rock, Country, Dance, Disco, Funk, Grunge, Hip-Hop, Jazz, Metal, New Age, Oldies, Other, Pop, R&B, Rap, Reggae, Rock, Techno, Industrial, Alternative, Ska, Death Metal, Pranks, Soundtrack, Euro-Techno, Ambient, Trip-Hop, Vocal, Jazz+Funk, Fusion, Trance, Classical, Instrumental, Acid, House, Game, Sound Clip, Gospel, Noise, Alternative Rock, Bass, Soul, Punk, Space, Meditative, Instrumental Pop, Instrumental Rock, Ethnic, Gothic, Darkwave, Techno-Industrial, Electronic, Pop-Folk, Eurodance, Dream, Southern Rock, Comedy, Cult, Gangsta, Top 40, Christian Rap, Pop/Funk, Jungle, Native US, Cabaret, New Wave, Psychadelic, Rave, Showtunes, Trailer, Lo-Fi, Tribal, Acid Punk, Acid Jazz, Polka, Retro, Musical, Rock & Roll, Hard Rock, Folk, Folk-Rock, National Folk, Swing, Fast Fusion, Bebob, Latin, Revival, Celtic, Bluegrass, Avantgarde, Gothic Rock, Progressive Rock, Psychedelic Rock, Symphonic Rock, Slow Rock, Big Band, Chorus, Easy Listening, Acoustic, Humour, Speech, Chanson, Opera, Chamber Music, Sonata, Symphony, Booty Bass, Primus, Porn Groove, Satire, Slow Jam, Club, Tango, Samba, Folklore, Ballad, Power Ballad, Rhytmic Soul, Freestyle, Duet, Punk Rock, Drum Solo, Acapella, Euro-House, Dance Hall, Goa, Drum & Bass, Club-House, Hardcore, Terror, Indie, BritPop, Negerpunk, Polsk Punk, Beat, Christian Gangsta, Heavy Metal, Black Metal, Crossover, Contemporary C, Christian Rock, Merengue, Salsa, Thrash Metal, Anime, JPop, SynthPop
DUET (case insensitive):
Anything marked duet, yes, y, d, 1, or • (bullet) in a Duet tag or column imported for duets will be saved as a Duet.
DECADE (case insensitive):
The following formats are accepted (using 80s as an example) - 80s, 80's, 1980s, 1980's. For years 2000+ - 2000s, 2000's, 2010s, 2010's. Also accepted, exact year values eg 1988 will be saved in the system as an 80s song.
LANGUAGE (case insensitive):
Shows the accepted full name and three letter language codes eg songs with german, German, gmh, or goh will be tagged as German.
english, eng, = English; spanish, spa, = Spanish; japanese, jpn, = Japanese; chinese, chi, zho, = Chinese; filipino, fil, = Filipino; portuguese, por, = Portuguese; indonesian, ind, = Indonesian; italian, ita, = Italian; french, fre, fra, frm, fro, = French; german, gmh, goh, = German; hindi, hin, = Hindi; irish, mga, sga, = Irish; korean, kor, = Korean; russian, rus, = Russian; vietnamese, vie, = Vietnamese; thai, tha, = Thai; swedish, swe, = Swedish; hebrew, heb, = Hebrew; jewish, = Jewish; arabic, ara, = Arabic; Maori, mao, mri, = Maori;