How to search or browse a DJ's song book
---
Two ways...
BY KEYWORD: type what you are looking for in the song book's search box, and hit the SEARCH button
BY LETTER: hit the grey 'ABC BROWSE' button, and an alphabet will drop down for you to click on. Choose your letter, and artists and titles starting with that letter will appear underneath.
By default, SongbookDB searches for both artists and titles, but you can search for one or the other using the check boxes next to the SEARCH button.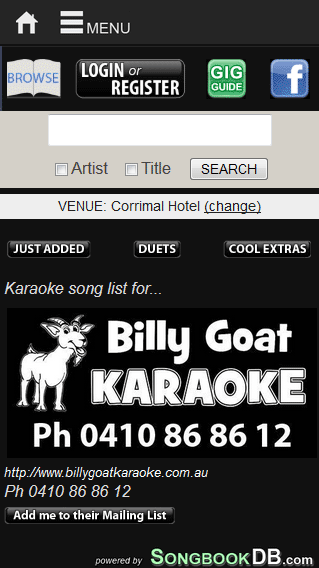 Clicking the JUST ADDED button below the search box will display songs that the DJ has addd in tha last 30 days.
If the DJ has tagged their songs, you may also see the DUETS and COOL EXTRAS buttons below the search box. Clicking the DUETS buttons shows duets, and clicking the COOL EXTRAS button shows a pop up that let's you choose (depending on what the DJ has enabled) Genre, Language, and Decades that you want your searches and browsing to match: